Battery Operated Light from LEDs
Can You Have Battery Powered LED Lights?
One question we often get from our customers is if an LED can be run on a battery. The short answer — yes. Rather than using a 3 volt adapter to provide electricity to any LED light, batteries can offer energy that is more accessible and convenient, depending on your specific needs. And, the great news is you have a lot of options to choose from if you want to have efficient battery LED lights. LEDs have a very low power draw, so there are plenty of battery types that can run your large, medium or individual mini LED lights to make them nice and bright for a long time.
CR1225 Battery for LED Lights
When it comes to energizing small battery LED lights, we have our miniscule CR1225 battery with a holder to help. This micro battery is only 12.5mm or 0.5 inches across, which is roughly half the size of a penny. As you can see from this picture, the CR1225 can illuminate 4 LEDs for about 12 total hours of use. This makes them highly compact and effective LED light batteries.
CR2032 LEDs Battery
Our CR2032 holder with a switch shown here is one of our larger coin cell LED light batteries. Not only is this coin cell a nice choice for its small size, but it can run up to 10 LED lights at once. Because of this larger capacity, the CR2032 is an excellent choice for powering LED battery lights.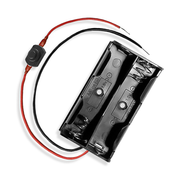 Other Types of LED Light Batteries
On the other end of the battery size spectrum, a pair of AA batteries can run 70 small battery operated LED lights for 4-5 hours. That's a lot of lights! Or, those same AA batteries can run a few battery powered LED lights non stop for several days. These larger batteries, as well as AAA and 9-volt batteries, will last a long time before any replacement is needed, and they can power a significant amount of different LEDs in the same project. However, these types of LED light batteries may not fit into micro modeling projects.
Which LED Light Batteries Are Best for Your Project?
There are a few factors that will influence your decision when purchasing LED light batteries. Before you dive into your hobby, make sure you consider the following so that you can create a brilliant project with high-quality battery powered LED lights:
The amount of space available to hide your batteries
The number of LEDs that will be used in your project
The types of LEDs you expect to power up, which include:

Solid - steady lit LEDs
Flashing LEDs
Flickering LEDs
Solid and flashing LEDs in the same project
LEDs that are driven by a circuit board

How long you'll need each battery operated light to run
The brightness you'll need from your LEDs
The voltage of the battery
Once you gather all of the details, it'll be much easier for you to navigate our website and pick out your desired LED light batteries. However, if you're still feeling overwhelmed, contact us and we'll be happy to help.
Choosing the Right Battery Size
Adding large or small battery powered LED lights to your work will boil down to the most optimal battery size to achieve the results you strive for. All previously mentioned criteria for purchasing the right LED light batteries are important, but the size of the battery will determine the light output and, ultimately, the outcome of your project.
Larger batteries can mix solid and flashing LEDs and provide significant power. For example, the 9-volt can run our siren circuit, sequence circuit and other circuits. However, smaller batteries such as our small or mini coin cells have the advantage of size. In fact, small projects do not need as many LEDs or types of LEDs. If you only need a few LED battery lights in your micro project then our smaller "coin cell" style batteries are a great choice for your small battery operated LED lights.
LED Lights With a Battery Pack
We have complete LED lighting kits that include a coin cell, AAA battery holder or 9-volt battery snap that include:
1 to 5 lights
A battery holder
An on/off switch
Kits like our Chip Light Kit and Mini Lighting Packet use our CR2032 holder with a switch, whereas our Lighting Package uses either AAAs or a 9-volt holder with a switch. If you are new to LED lights and want to light a small project these kits are an excellent place to start because everything is figured out. Simply glue the lights into your project and then connect them to the battery holder. Then, put the battery holder in the back or underneath the project and enjoy your nicely lit display!
Purchase Premium Battery Powered LED Lights
No matter what type of hobby you enjoy, you can't let lighting ruin the craftsmanship of your work by using below-average LEDs. When it's time to add a new battery operated light to your project, make sure you use the best battery powered LED lights from the experts at Evan Designs. With nearly 15 years of experience working with tiny LED lights, you can expect nothing less than superior results from our products. Order today!
Additional Resources for Battery Powered LED Lights